Hotel for mountain bike vacation in the Harz Mountains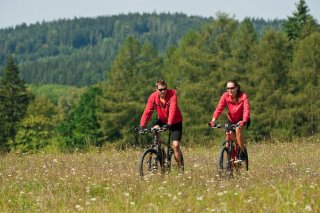 The Harz mountains are probably the most popular region in northern Germany for most mountain bikers. Here every cyclist will find the right route, whether short or long, steep or flat, strenuous or relaxed. When mountain biking in the Harz mountains, cyclists and action fans get their money's worth. Because the unique bike parks attract mountain bikers from all over Germany to the Harz at any time of the year. The beautiful town of Bad Lauterberg trumps with many bike routes for mountain biking, be it the SingleTrailTour over Achtermannshöhe, Oderteich, St. Andreasberg, Oderstausee and Silbersee, family tours around the colorful Bock or the mountain and valley tour Wild Man`s Trail. For the demanding mountain biker, boredom is definitely not an option in the Harz Mountains.
Mountain biking in the Harz Mountains: our hotel is the ideal accommodation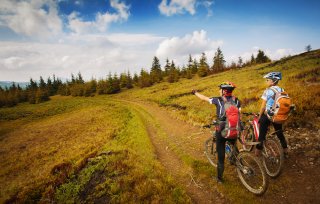 With the right accommodation nothing can go wrong on a mountain bike vacation. Hotel Panoramic promises its guests a quiet and pleasant stay. Not only the nearby bike paths inspire the athlete, but also the hotel's own swimming pool with sauna area as well as the cozy atmosphere let the stressful everyday life fade into the background. With its 13 exciting mountain bike tours around Bad Lauterberg, this region is undoubtedly one of the most popular in the Harz Mountains.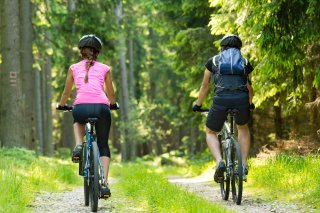 The routes for mountain bikers are always well signposted and children also get their money's worth here. Family-friendly mountain biking routes, such as the circular trail "Streifzug durch die Geschichte", give an idea that families can not only get active here in terms of sports, but that historical highlights also await them. The Bad Lauterberg tour to the Großer Knollen can also be done with almost any bike. And at the end of each mountain biking tour, a reasonably priced, cozy accommodation awaits the sports enthusiast, sweetening the evenings with culinary delights. The Harz Mountains are the ideal destination for mountain bikers.
You can book a cheap hotel room for your mountain bike vacation in the Harz mountains easily online with us. Our reception will also be happy to help you with a booking by phone. If you have any questions about mountain biking in the Harz Mountains, we will be happy to answer them. We look forward to hearing from you!