Verpflegung: Frühstück, Halbpension Plus und All Inclusive
Choose your desired meal and up to two accompanying children under 8 years get the same meal free of charge!
Kostenfrei sind ebenfalls die Babybrei-Gläschen im Rahmen Ihrer Verpflegungsleistungen.
Betreutes Mittagessen durch eine Mitarbeiterin des Biber-Clubs für die kleinen Gäste.
Attention! These offers are not combinable with other promotions.
Child-friendly hotel: stress-free Harz vacation with children
Enjoy a Harz family vacation without stress in a real feel-good atmosphere with individual travel duration! The Harz offers a varied landscape and intact nature. Lots of adventures attract families to the Harz National Park. The popular vacation region is a popular destination thanks to its central location in the middle of Germany. Our home Bad Lauterberg can be reached quickly and comfortably from all directions by car or public transport. The short journey is ideal for a family trip. Our large family rooms offer plenty of space for parents and offspring.
Your offspring can also play and romp to their heart's content in the hotel thanks to our professional childcare. In the process, the little ones can make many new friends during the vacations. And parents can explore the beautiful landscape on their own in between on vacation with children in the Harz Mountains. The vast meadows and deep forests, bizarre rocky cliffs and wild gorges, provide ideal conditions for outdoor activities. Or take a trip to one of the picturesque towns in the region, e.g. Braunlage, Goslar, Wernigerode or Quedlinburg. Why travel far away when the good is often so close: Wonderful relaxing days in one of the most beautiful low mountain ranges in Germany are waiting for you! Staying overnight in the Harz Mountains with children has never been easier!
What does the perfect day on a family vacation in the Harz Mountains look like? Our child-friendly hotel is definitely the right address for a relaxing vacation! We have some tips for fathers, mothers and the offspring! The best way to start the days is with a delicious Harz breakfast, depending on the booking in the room or in the hotel restaurant. After that, a variety of exciting destinations and activities await our guests.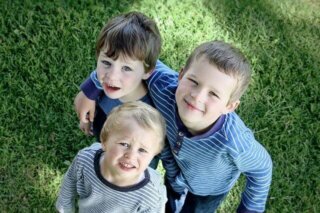 Short vacation with children in the Harz Mountains
Our hotel is also a popular accommodation for short vacations with children in the Harz Mountains. Even on a weekend there is much to discover in the region. We tell you how to experience as much as possible in the short time: The following tips will bring you a little closer to the world, nature and culture of the Harz!
Among the most popular destinations are, of course, the Harz mountains: take a ride on the steam train to the Brocken, or float up to the Wurmberg with the cable car. But you can also climb both peaks wonderfully on foot. Around our hotel you will find well-marked hiking trails and bike paths. If your offspring are already in their teens, you can also test the action-packed mountain bike trails in the Harz Mountains. Places like Braunlage, Wernigerode, Quedlinburg or Goslar invite you to stroll and store. And in winter you will find ideal conditions for skiing, cross-country skiing and tobogganing everywhere in the Harz Mountains! Parents and children will certainly not be bored during the stay!
Interesting sights for children on vacation in the Harz Mountains
The Harz Mountains are shared by the German states of Lower Saxony, Saxony-Anhalt and Thuringia. Besides the beautiful nature, there are many other sights and destinations that are interesting for children. At least some of these tourist attractions you should definitely visit during your stay in our family hotel:
Treetop path Harz
Fairytale Forest Bad Harzburg
Krodoland
Pullman City Western Town
Animal park at the Hexentanzplatz in Thale
Salt Valley Paradise in Bad Sachsa
High Ropes Course in Sankt Andreasberg
Iberg Dripstone Cave
Ilsenburg climbing park
Pewter Figurine Museum Goslar
Wernigerode Castle
Robinson playground Clausthal-Zellerfeld
Wernigerode miniature park
Ride with the Harz narrow gauge railroads
Falkenstein castle
Tree species trail near Herzberg am Harz
Ice skating fun in the Schierker Flintstone Arena

Fairy tale valley in Bad Grund
Bathing fun for father, mother and child
Many of these destinations are a good idea even in the rain. For big and small water rats we also recommend a visit to one of the numerous thermal baths in the Harz Mountains. Here the kids can let off steam, swim and slide in the leisure pool. Meanwhile, parents can relax in the sauna area:
VITAMAR Bad Lauterberg (only a few minutes walk from Hotel Panoramic)
Kirchberg thermal bath Bad Lauterberg
Bad Harzburg brine spa
Bodetal Spa in Thale
Kyffhäuser thermal bath in Bad Frankenhausen
Crystal Spa Hot Brocken Altenau
Swimming pool and wellness area in Hotel Panoramic
Of course, after an eventful excursion you can also end the day in our hotel's own wellness area. Let us pamper you from head to toe! Meanwhile, the kids can swim and play in the indoor pool. In the evening the whole family strengthens itself in one of our restaurants – depending upon preference at the buffet or A-la-Carte. And before bedtime, dad and mom can enjoy a delicious cocktail at the bar! This is what a perfect family vacation in the Harz Mountains looks like!
Note: If you have any questions about our accommodation, our friendly customer service team will be happy to help you by phone or at our email address. You are also welcome to subscribe to our newsletter!